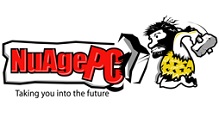 LOCALLY OWNED

LICENSED & INSURED

TV MOUNTING SERVICES

CALL TODAY! (954) 234-4284

NuAge PC provides award-winning television installation and TV Mounting services to clients in the South Florida area. We work with residential and commercial clients to provide the best in TV mounting and television installation services. Our team of friendly and knowledgeable installers have decades of experience with TV Mounting in the South Florida area. Our services are licensed, insured, affordable and professional. See why year after year we are voted the best TV Mounting and Television Installation company in theMiami, Fort Lauderdale and South Florida area. Below are some of our most recent reviews for our South Florida TV Mounting Services:

Source: Google

Rating: Five Stars

Service: TV Mounting

"These guys are great! They went above and beyond to install my TV! They were able to provide the bracket and cables that I needed cheaper then what I would of paid in the stores! I am sending them to my Parents house to install their TVs next week!"

Source: Google

Rating: Five Stars

Service: TV Mounting

"This is the best company that I have ever worked with .The gentleman who came to install 4  TVs for us was the most professional pleasant polite & detail oriented person I have ever dealt with. He efficiently finished a job and left everything in meticulous order. Also he programmed every TV & explained patiently how to work everything."

Source: Google

Rating: Five Stars

Service: TV Mounting

"Had a 65" curved samsung mounted. Can't say enough good things about the service they provided. Absolutely amazing job mounting and concealing the wires. Joe was the technician who did my install and highly recommend asking for him looking for service! Would definitely recommend them and plan on using them again for any future mounts."

Source: Google

Rating: Five Stars

Service: TV Mounting

"This company is Great! I called them and got a price over the phone to install my 60inch TV. They brought the bracket and the cables. I saved some money getting everything from them. They were nice and neat and would use them everytime."

Source: Google

Rating: Five Stars

Service: TV Mounting

"One of their installers just left the house after a superb installation of my new flat screen.  Not only did he have everything I needed (I was missing some critical parts), but he came through for me in every possible way.  Best of all he was right on time, called me before he came, and was a real nice guy on top of being a great technician.  I would give them TEN stars if they had them:)"

Join Our List of Satisfied Customers

These are just some of the reviews that we have received for the thousands of television installation and TV Mounting services that we have performed in the South Florida area. Join our list of satisfied clients. Give us a call today at 954-234-4284 to get a free estimate on your South Florida TV Mounting project. We look forward to the opportunity of speaking with you soon!

AWARD WINNING SOUTH FLORIDA TV MOUNTING SERVICES

Custom Licensed & Insured TV Mounting Services. Serving all of South Florida including:

West Palm Beach, Lake Worth, Delray Beach, Boca Raton, Pompano Beach, Fort Lauderdale, Hollywood, Miami, Miami Beach, Kendall, Coral Gables, Hialeah, Coral Springs, Boynton Beach, Davie, Belle Glade, Hialeah, Palm Beach County, Broward County, Miami-Dade County and more! Give us a call at 954-234-4284 for all of your television installation and TV mounting needs. Thank you for visiting our Palm Beach TV Mounting and West Palm Beach TV Mounting website.

SOUTH FLORIDA TV MOUNTING SERVICES

Residential and Commercial TV Mounting Services and TV Installation Services in the South Florida Area